¤
Look below! (that's how many times my site has been visited!)
FastCounter by LinkExchange



I really appreciate an email or two from people who have visited my site-excluding spam!

¤
---
The Complete Redwall Site!
Euuulaaaaaliaaa!
I haven't updated in a long time but now Tripod's OK. I have just read Lord Brocktree. Have you?
Welcome to my Redwall page.My favourite series of books(Redwall that is).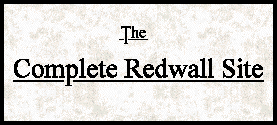 Click here if you like my site
---
Contents:
Vinders links!
My growing list of links
The poll!
Help make this site better
A tinsy bit about me!
Just a little about me
FAQ!
Frequently asked questions
What's Redwall?
Don't know what Redwall is?
The news!
The general news
Classifieds!
My Classifieds
The Complete Redwall Awards!
Win a lovely award-results
Some assorted pictures!
My little group of pictures
The Messageboard!
The messageboard
The secondary menu!
Just another menu like this...
Downloads
---